It was near the end of the 2016 golf season when Nike shocked the golf world with the announcement that they were going to stop making golf equipment ​. The internationally recognized sports brand was stepping back from developing golf equipment like Nike golf bags, clubs, and balls. Their goal was to focus on higher margin items like apparel.
This exit from equipment manufacturing was a shock to the golf world because Nike was known for making quality items. Some of the top golfers in the world including Rory McIlroy and Tiger Woods have used their equipment. So why step away from the game when your brand is one of the most well-known logos on golf courses around the world?
Still Looking for Nike Golf Bag?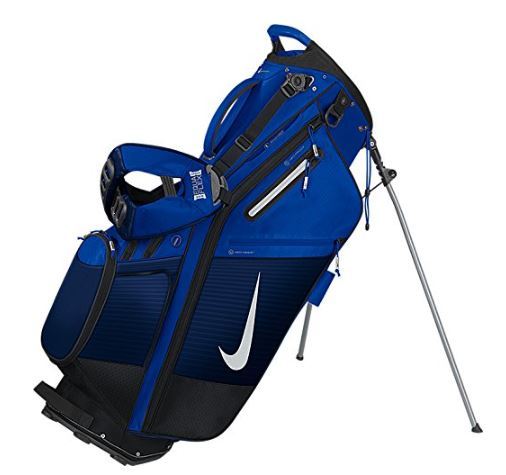 Developing golf equipment requires a lot of investment in research and development as well as marketing to keep up with other big names in the industry like Titleist, Taylormade, and Callaway.
Developing stylish apparel, however, is a much more manageable expense. Clearly, Nike made a strategic decision based on potential profits rather than any issues with their equipment.
Due to the quality and reputation of Nike products, their equipment is still highly sought after by golfers even if the company is no longer producing new equipment. The bold styling on Nike golf equipment is popular among golfers who want to look good while on the course, no matter how well they play.
If you're looking for a Nike golf bag you may have to search a little harder than when shopping for golf bags from other brands. Major golf retailers are unlikely to have any Nike golf bags in stock unless they are clearing out old models. This means your search will often take you online.
So, what are the Nike golf bags you should be keeping an eye out for as you carry out your search?
Nike Golf Bag Styles Available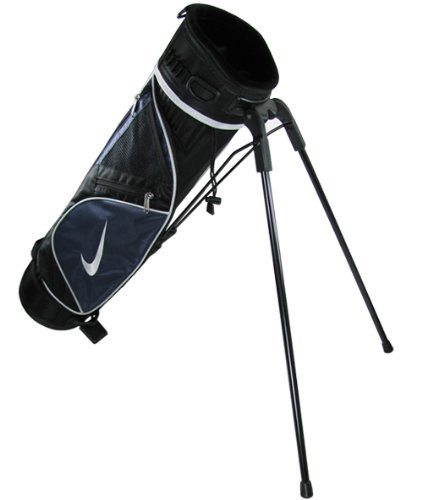 Nike produced a number of lines of golf bags with iterative updates throughout the years. While the designs may have changed, Nike's bold style was present in almost every update. Bright colors, clean lines, and minimalism were common themes in the design of many Nike golf bags.
One of the most impressive things when shopping for a Nike golf bag is the timelessness of their style. For example, the Nike VR club line was released with an accompanying bag back in 2011. The style of the golf bag doesn't look out of place when compared with more modern designs.
This is great for Nike golf bag shoppers who won't feel limited to only the most recent year's golf bag lineup. It should also help shoppers feel confident that their golf bag will still be stylish for years to come.
Of course, there are two major differences to consider first before diving into shopping for a Nike golf bag. Do you want a cart bag or a stand bag? The decision will ultimately depend on how you prefer to play golf. If you are someone who tends to walk while playing then a cart bag may prove to be too heavy and cumbersome. If you ride on a motorized cart for most of your rounds then a cart bag can be very handy to have due to the additional storage space.
Nike produced a number of golf bags in both styles throughout the years so there should be no shortage of choices available no matter which style you are looking for.
Next, consider the style you are looking for in a Nike golf bag. As trends have changed over the years, so have the styles of Nike bags.
If you are looking for bright, bold colors then you will likely want to consider the Nike golf bags made in their final years of producing golf equipment. They incorporated bright blues and greens into many of the designs for a modern, colorful look.
For those who want a clean, basic, minimalist look that still makes a statement then Nike's older golf bag designs are for you. The iconic Nike swoosh against a midnight black bag is an eye catcher for sure.
Public Perception of Nike Golf Bags
Nike is a well-known brand beyond just the sport of golf. Walk into any clothing store or sports retailer and you will surely see Nike products.
Unlike other brands, Nike has carved out a place in both the fashion world and the sporting goods world. Not many other brands can claim success like that.
There is also a perception of quality around Nike. No, the brand is not always seen as the best of the best but it is often one of the best brands that the average Joe can afford. It's a brand that people can see their favorite athletes wearing on television while also knowing they can wear Nike products as well without having to earn a professional sponsorship or spend absurd amounts of money.
The fact that a Nike golf bag can still fetch a good price online despite being discontinued is a testament to the quality and perception of the brand. People are willing to pay nearly a full price for a golf bag that is no longer produced.
Still wondering what golfers think of Nike? Step foot into any clubhouse at any golf course and you will see players wearing Nike shoes, Nike hat, Nike clothing, playing Nike clubs, and carrying everything in their Nike golf bag.
Comparing a Nike Golf Bag to the Competition
A golf bag is a golf bag, right? While many golf bags may have similar features and a basic design the manufacturers all have their own unique ways of setting their bag apart from the rest.
With Nike, the most obvious difference is the style. Golf is not known for bold styles and bright colors. The stereotypical golfer is someone wearing khaki pants, a white cap, and a pressed golf polo. Golfers are supposed to be uptight people trying to live up the centuries-old etiquette of the game.
A bright blue Nike golf bag turned that stereotype on its head. In fact, Nike has long been known as the "cool" brand in golf. As younger players flocked to the sport in the prime days of Tiger Woods' career, Nike quickly became one of the most popular brands in a sport dominated by traditional names.
To this day, Nike is still one of the more innovative brands when it comes to fashion on the golf course but you can see their influence in golf style from all brands. More companies are incorporating bright, bold colors and patterns to try and seize onto the same kind of magic that Nike has captured.
Basically, if you want a bag that's going to stand out and make a statement then a Nike golf bag is definitely one to consider.
Beyond just appearances, Nike also put a lot of effort into building functional golf bags. After all, what good is a bag that looks nice but doesn't get the job done?
Over the years you can see Nike try to lead the industry with features like lightweight golf bags, unique club divider designs, and thoughtful pocket layout. People who carry their bag on their back will definitely appreciate Nike's dedication to creating a lightweight bag.
In the final year of Nike's foray into golf equipment, they produced a bag called the Nike Air Sport Stand Bag that came in a number of colors from vapor blue and grey to a more subdued black and white. More important than the color, however, was the weight of the bag.
This stylish bag weighed in less than 10 pounds which made it one of the lightest on the market. Most surprisingly, the bag still had plenty of pockets and room for everything a golfer needs while on the course.
It's a shame Nike stopped making equipment because they seemed to have found the balance between weight, storage, and style. Luckily, you can find these bags online and at some retailers due to its relatively recent release.
There are a number of other brands also competing in the golf bag space but one that stands out as a direct competitor to Nike is Ogio. Ogio produces quality bags with a similar emphasis on bold style and unique features.
One of the areas where Nike always seemed to beat Ogio was pricing. Ogio is a company known for quality bags and their price tag reflects that. Nike is not exactly a discount brand and yet their pricing was often lower than similar products from Ogio.
Now that Nike is no longer producing golf equipment it is much easier to find a golf bag from competitors including Ogio, but dedicated shoppers will be hard-pressed to get better value and style from a bag than what Nike has made available in the past.
Our Final Thoughts on Nike Golf Bags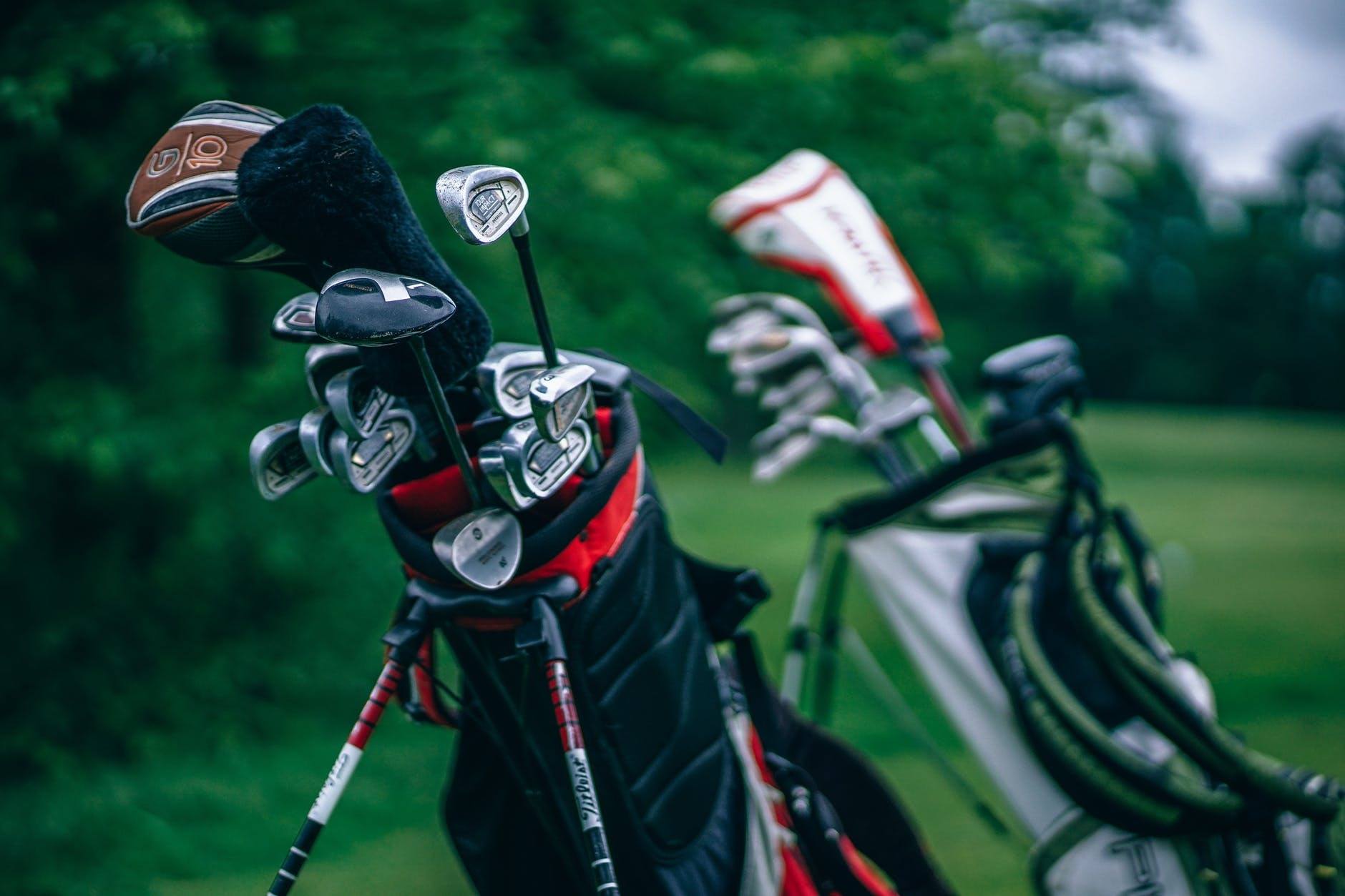 It's a shame you can't walk into your local pro shop or golf retailer and buy a Nike golf bag these days. Some products die out because they lacked quality or innovation. Nike golf equipment didn't have that same fate. Instead, Nike golf bags, clubs, and balls are no longer produced simply because of a business decision.
There are a lot of great brands that produce quality golf equipment. Although Nike may no longer be one of those brands, their quality can still be experienced. Plenty of retailers carry out of season items like discontinued Nike products. If that fails, there are second-hand retailers and websites where you can find a range of Nike bags from various different years.
While the search for the perfect Nike bag may not be as simple as buying a current year model bag from another brand off the rack, it will be well worth it. Not only did Nike produce some of the highest quality golf equipment, their styling and innovation were second to none.
Looking at other brands today reveals the impact Nike had on the golf industry. The sport once known for its stuffiness and hesitation to change or innovation is now awash in bright colors and bold designs. A lot of that change can be attributed to what Nike did through their golf equipment design.
Should you buy a Nike golf bag? Consider the features that are important to you and base your decision on that. If Nike checks off all of the right boxes for you, then you should be completely satisfied with choosing a stylish golf bag from this iconic sports brand.
Plus, in a few years, you can tell everyone your golf bag is a collectible.