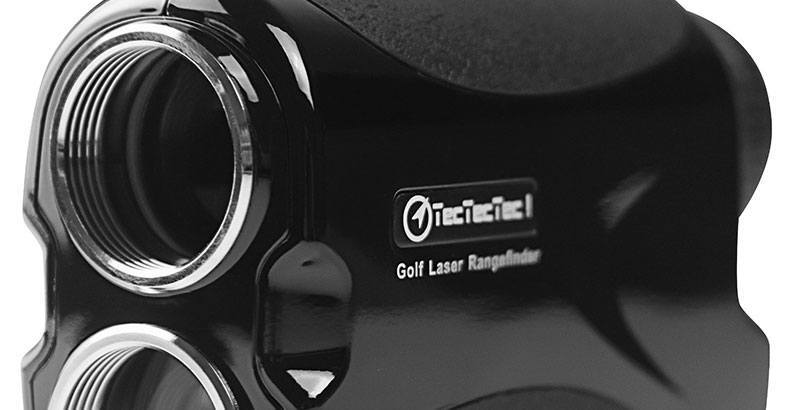 TecTecTec VPRO500 Golf Rangefinder Review
The VPRO500 by TecTecTec is an inexpensive and accurate golf laser rangefinder that is perfect for a golfer in need of a budget friendly option. In first target priority mode it estimates and displays the distance to the closest object, which is helpful if you want to measure the distance to a flagstick but there are trees in the background. Choose distant target priority mode when you want to calculate the distance to the furthest subject, which can be useful when you want to measure the distance to a target though the woods. Finally select pro-scan mode if you want to measure the distance to hazards.
Page Contents
Disclosure: We receive compensation from the companies whose products we review. We are independently owned and the opinions expressed here are our own.
Features Highlight
Pinsensor technology – Delivers quick measurement with one yard accuracy, and precisely measures overlapping objects
Laser Rangefinder – Range of measurement is approximately 540 yards with continuous scan modes
Water resistant
Dust resistant
Portable and lightweight – Measures 41 x 72 x 104
Through the lens display – Ultra clear, multi-layered premium optics for an easy read
Distance and battery meter
Lanyard and case – Complete package includes 1 CR2 battery, carrying pouch, strap, quick start guide and microfiber cleaning cloth
1 year warranty – Includes the TecTecTec Happy Customer Guarantee
State-of-the-art digital circuit design
More advanced optical system in both reliability and lens quality
View on Amazon
Best Things About The TecTecTec VPRO500 Golf Rangefinder
Superb for measuring wooded areas, hazards, and golf flags
Lightweight enough to carry while golfing
Better shot selection will bring your score down and improve your game
Can be used as a premier spotting monocular – Leave your binoculars at home!
Has 6X magnification and +/- 1 yard accuracy
Simple fingertip operation
Directions are very clear
Through the lens distance display
Measures distance over sand traps and to the 150 for a layup
Fits perfectly into golf bag for storage
Makes it easy to read yardage
Finds hazards and pins extremely well
Low power usage
The manufacturer is very helpful and interested in feedback
Compares favorably to a Bushnell or a Leupold and is much less expensive
Legal for tournament play – As opposed to the VPROS, which has slope
Case can be attached to your belt
Font size is large
Also useful for archery
Can be used on the driving range
Works just as well as much more expensive range finders
Customer service is very good
Perfect for giving ranges from the fairway bunker to the tee, for giving ranges to the flag stick, or for clearing a water hazard
Its sharp focus is appreciated, as is its ability to "dial in"
Works quickly; returns the yardage practically instantaneously
The 6X magnification is better than Bushnell
Shoots through the windshield and is perfect for cold days
The sweep function is very good
Unit shuts off automatically
Well crafted and sleek
View on Amazon
Our Complaints
CR2 cell battery is not rechargeable
Some people find it unsteady
Battery installation can sometimes take both hands plus a pocketknife blade to depress the contact
Only water resistant, not waterproof
TecTecTec VPRO500 Golf Rangefinder Is Good For:
Driving ranges that don't have distance charts for their flags
Replacing GPS on the golf course
Use while standing, not as steady in the cart with a passenger
Any golfer who wants to improve his scores
Pin mode works best if the flag is red or white – Blue flag's a little harder especially if you have trees in the background
Difficult to determine distances over unique terrain
View on Amazon
It's Not Good For:
Very windy days – Hard to keep it steady
The user manual has some egregious typos
No stability control
Darker days. hard to see in the cart because it is black
Final Thoughts
Golfers, if you use the distance finder on the TecTecTec Laser Range Finder, you'll never have to guess again how far away you are from the green or a hazard. In addition, this is the product that will most likely help you to take 3 or 4 shots off your next round. Knowing you have the right yardage makes it much easier to choose the right club. Make sure you keep the power button pushed in order to get continuous target reading. All in all, this is fantastic rangefinder at a very economical price.
TecTecTec VPRO500 Golf Rangefinder Editor's Rating:
Value

Size

Features

Performance
Summary
Overall, this is a good option for a cheap golf rangefinder if you don't need a lot of bells and whistles. Get full details on Amazon.